The First NDI Eco-system Industry Summit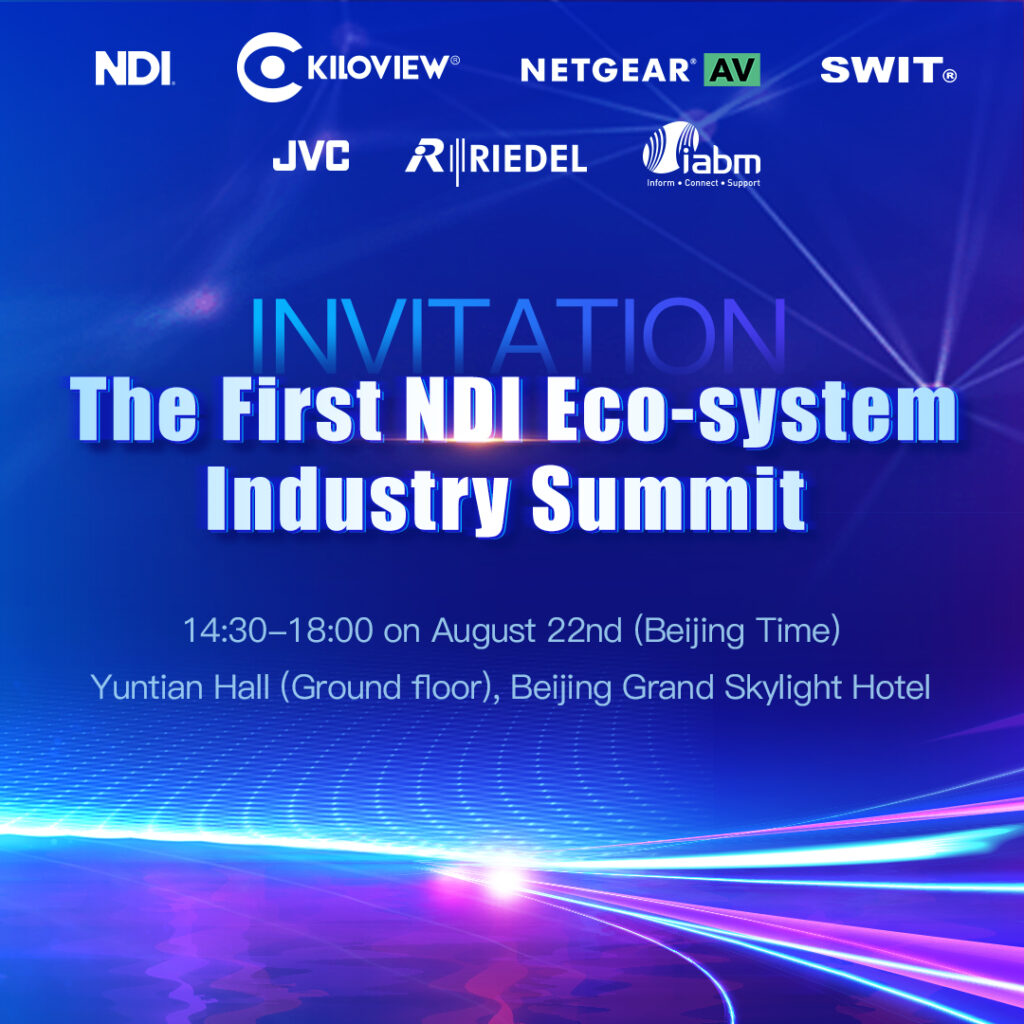 The first NDI eco-system industry summit will be held on August 22, 2023, in Beijing, China. The Summit will focus on the theme, "The Future of Broadcasting Industry: Workflow Based On NDI". The theme affirms that NDI has become one of the core technologies in the video transmission field. As the earliest implementor of NDI technology, Kiloview has been committed to the promotion and practical application of NDI technology.

The summit will be organized by Kiloview in conjunction with NDI, NETGEAR, SWIT, JVC, RIEDEL, IABM, and well-known brands in the industry. The purpose is to jointly create the first NDI technology summit in China, lay the industry status of major brands and associations in the NDI eco-system, enhance the professional degree and influence of Kiloview brand.
The agenda for the summit includes keynote speech, product demonstration, professional interaction and exchange, the latest industry trends sharing, interpretation of leading technologies, and jointly discussing the promotion and application of NDI technology in various fields such as radio and television, media live streaming, film and television production.

Jacob, CEO of Kiloview will give an In-depth Interpretation of the NDI studio – principle, technology and device composition, such as how NDI technology achieves low latency, high image quality and other professional features, and why NDI technology is suitable for application scenarios in the video transmission.

During the summit, there will be simultaneous online live streaming through major platforms, and mainstream media comprehensive promotion. With an international perspective, the summit will provide you opportunities with NDI official face-to-face communications, industry association resources exchange, committed to creating the most influential NDI technical exchange and resource-sharing platform.

The summit will be held right before the BIRTV, the most influential exhibition in the field of broadcasting, film and TV in Asia, which has been well received at home and abroad. Kiloview will demonstrate our NDI products and solutions in the Outdoor Raw Space F012, as well as our "Kiloview IP-Based OB Van". If you are around the China International Exhibition Center from August 23rd to 26th, seize the chance to experience the exciting updates of Kiloview latest products and NDI solutions.