The State of AV1 Playback Support: 2022
AV1: The Story So Far (2017-2021)
Back in 2017, Bitmovin debuted the world's first AV1 live encoding at the NAB Show in Las Vegas, earning a Best of NAB award. While it was an exciting proof of concept at the time, AV1 playback support was extremely limited and large-scale production usage wouldn't come until years later. In 2020, YouTube and Netflix began delivering AV1 to the first compatible Android devices, and last year Netflix shared details about their expanded use of AV1 for 4K streams. The trends in our annual Video Developer Report show AV1 momentum is building, but one of the biggest factors affecting AV1 adoption is also one of the questions we hear most often…What is the current state of AV1 playback support?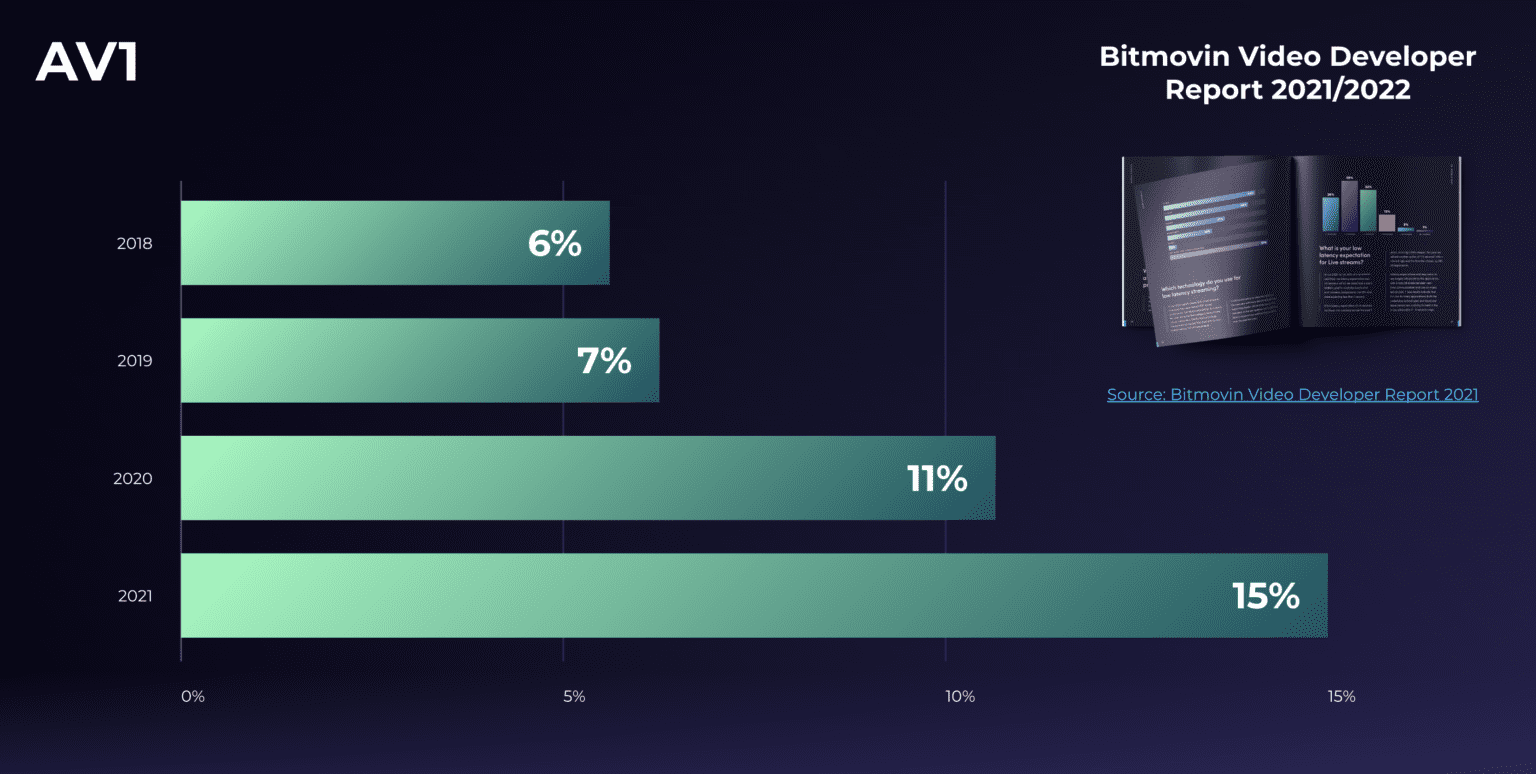 Now: AV1 Playback Support in 2022
A report commissioned by Netflix detailed how their Open Connect Program and recent codec optimizations contributed to over $1 Billion in savings for ISPs globally last year. Over one month in early 2022, 21% of streamed content benefited from the most recent improvements in codec efficiency, like Per-Title optimized AV1 and HEVC. They estimated that without those improvements, total Netflix traffic globally would have been around 24% higher, proving that you can see massive bandwidth and overall cost savings by encoding just a portion of your most popular content with AV1.
To answer the question of current playback support as thoroughly as possible, we created several sample streams with different combinations of containers, muxings and DRM. While there will be some exceptions and omissions, especially when you go back to the 2021 and 2020 models, I'll use the emojis below to show the general level of support you can expect from these platforms and brands right now and give the full results of our direct testing in the table at the end. 
 Fully Supported – Successful AV1 playback with all test streams, including DRM
 Partial or Documented Support – Successfully played at least one, but not all of our test streams OR the product documentation claims AV1 playback support, but has not yet been verified by Bitmovin
 Not Supported – AV1 playback not supported here currently
Browsers and Operating Systems
 Chrome
 Edge
 Firefox
 Safari
 Android 
 Windows
 iOS / macOS *(AV1 plays in Chrome and Firefox on macOS)
Generally speaking, the Chrome browser and Android ecosystem handle AV1 well across phones, tablets, smart TVs and set-top boxes/streaming sticks. Unfortunately, the same cannot be said for Safari and iOS where support is lacking.
Firefox was the first major browser to support AV1 and recently enabled hardware accelerated decoding on capable Windows machines. One thing to be aware of is that while Firefox supports the use of Widevine DRM with other codecs, there is currently a bug preventing playback of Widevine-protected AV1. 
The Edge browser on Windows 10 and later supports AV1, but you may need to install the free AV1 Video Extension from the Microsoft Store. 
For more details about the specific versions and less common browsers that support AV1, check out the table from CanIUse.com here. 
Smart TVs
  Android TV
  Google TV
  Samsung
  Sony
  LG
  Amazon Fire TV
As mentioned, Android handles AV1 quite nicely, which also applies to the Smart TVs running Android TV and Google TV operating systems. These include Sony Google TV models from 2021 on and many Amazon Fire TV models as far back as 2020. (FireOS is based on Android)
Samsung TVs (and phones) from late 2020 onward have AV1 hardware decoders and were mentioned by Netflix as some of the first outlets for their 4K AV1 content. 
LG has developer documentation stating AV1 is supported for their UHD TVs and projectors running WebOS 5.0 and above, although our testing on some 2020 models was unsuccessful.
Consoles and Streaming Sticks
 Amazon Fire TV Stick 4K Max
 Playstation 4 Pro
 Xbox One
 Roku Streaming Stick 4K
Playstation 4 Pro was also called out by Netflix as one of the targets for their 4K AV1 streams and it takes advantage of GPU-accelerated decoding. Netflix didn't publicly mention delivering AV1 to Xbox One, but the same decode libraries that the PS4 Pro uses were first made available for Xbox One, so it should be possible.
The Amazon Fire TV Stick 4K Max has AV1 + DRM support, making it one of the cheapest and best options for giving older 4K TVs an AV1 upgrade. 
Roku is a little bit of a gray area at the moment. Officially, they still do not support AV1 as an adaptive streaming video codec, but newer models like the Roku Ultra that have a USB port do support AV1 playback via USB media. With a little digging, I found that its AV1 hardware decoding was powered by a Realtek 131x SoC, which was also used in the smaller Roku Streaming Stick 4K. I had one of those available, so out of curiosity, I opened the YouTube app and played one of the popular homepage recommendations with the "Stats for nerds" overlay enabled.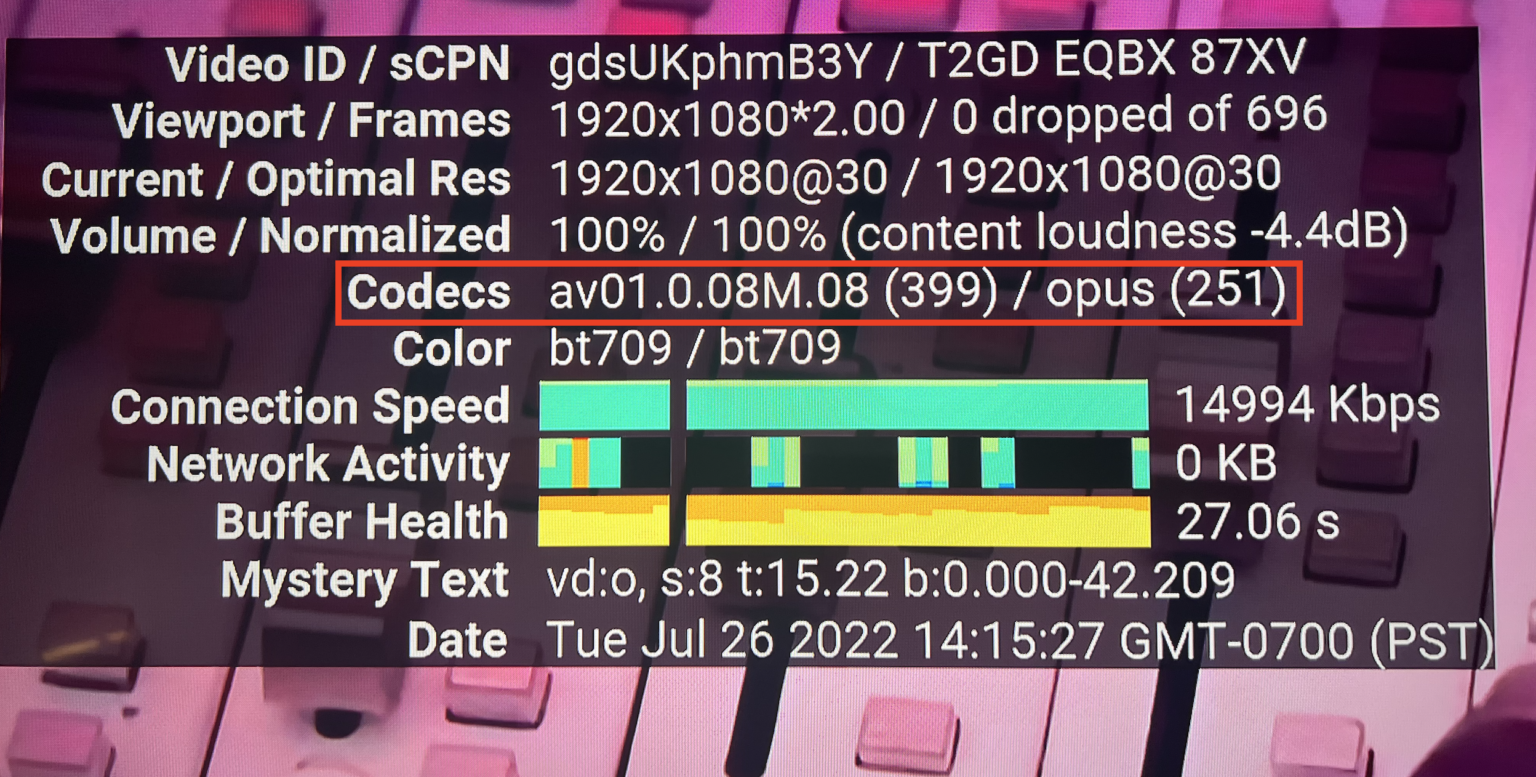 I was pretty shocked and pleased to see that Roku was actually already supporting AV1 for adaptive streaming, at least in the YouTube app. We reached out to Roku to find out if and when AV1 would be officially supported and they said while there's no timeline, there are active internal discussions. We will update this blog with any progress, but in the meantime, did confirm successful playback of our single file "progressive" AV1 MP4 files on the Streaming Stick 4K.
Looking Ahead: Future AV1 Playback Support
Even with gaps in support on some platforms, there is plenty of opportunity to see tangible bandwidth savings and quality improvements from AV1 right now and thankfully, the future looks even brighter. In the past few months, Intel, AMD and Samsung have all signaled additional AV1 support coming at the chip level. 
Google Requires AV1 Support for Android TV – What About Chromecast?
Last year, Google began requiring AV1 support for new Android TV and Google TV devices, something that spilled over into a public dispute with Roku and the YouTube app. That has seemingly been resolved, but many were quick to point out that Google's own Chromecast devices did not yet support AV1. It seemed logical that their next generation would indeed support AV1 and Google has now announced a new Chromecast that does indeed have AV1 decode support. The only catch is that it's a "budget-friendly" model that is capped at 1080p60, so it's already behind similar sticks from Amazon and Roku that support 4K. Hopefully there is still a 4K model coming, maybe one that will support Google's new HDR format? 
Apple Adding AV1 Support? 
For services and markets that have sizable audiences on iOS devices, Apple's lack of AV1 support has been disappointing, but there is reason to be optimistic. First, Apple joined the Alliance for Open Media, the organization responsible for creating and promoting AV1 encoding, back in 2018, which many took as a sign that Apple would eventually support AV1. More recently, updates to Apple's AVFoundation core media framework show the addition of a new global variable "kCMVideoCodecType_AV1", which is encouraging. While their recently released M2 processor does not support AV1 hardware decoding, it will hopefully offer some form of software accelerated decoding. 
Conclusion
While AV1 support and adoption has been on the rise and we've seen some encouraging announcements, universal support like we have with H.264 is just not there yet. That means AV1 will need to be part of a multi-codec approach for the foreseeable future, but that's ok! Not that long ago, it took millions of views to offset the higher encoding costs of AV1, but with recent improvements, we've seen the break-even point drop to as low as 4,000 views! So for a whole lot of content, encoding with AV1 can already save you money right now and those savings will only increase as more supporting devices become available.