Newsbridge Unleashes Revolutionary AI Technology MXT-1 at IBC2023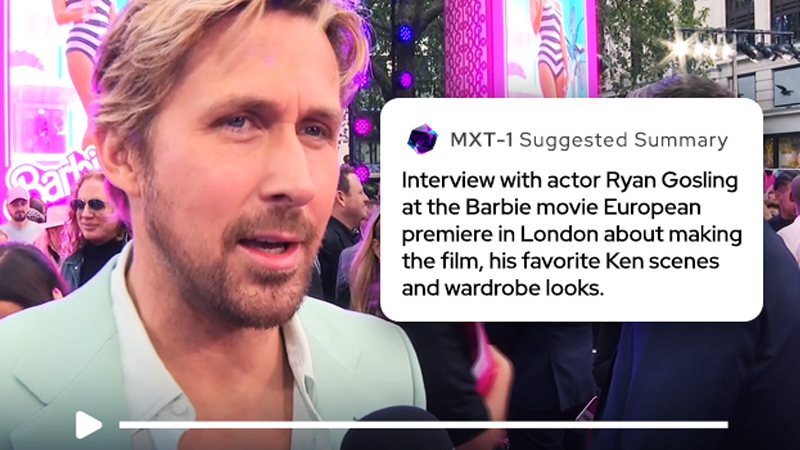 At IBC2023, Newsbridge will showcase groundbreaking new features for its patented AI video indexing technology MXT-1, which combines multimodal and generative AI to understand and describe what's in audiovisual media, making relevant content quickly searchable by anyone.
The award-winning technology launched in beta mode in April and will be rolled out at IBC2023 to broadcasters, TV channels, and sports rights holders globally. Capable of indexing more than 500 hours of video per minute, including metadata and descriptions, MXT-1 is a game changer for anyone working with live and archived media, sports, and entertainment content. 
"The initial deployments we've done with customers during the beta phase show that MXT-1 has the potential to disrupt media workflows far beyond what we expected," said Philippe Petitpont, co-founder and CEO at Newsbridge. "At IBC2023, we'll highlight how MXT-1 makes content searchable in less than two seconds and demonstrate advanced new features such as automatic media summaries — comprehensive descriptions of what's inside users' video content."
Key Highlights at IBC2023:
NEW AI Technology for Faster, More Efficient Media Asset Indexing
Newsbridge will demonstrate its award-winning MXT-1 AI technology for media asset indexing at IBC2023. MXT-1 enables users to automatically index vast amounts of content in record time, and makes searching large video collections as easy and intuitive as searching the web. Fast and scalable, MXT-1 enables users to quickly start enhancing, sharing, and monetizing their live and archived media.
Newsbridge has also redesigned its Cloud Media Hub, offering a new, more intuitive user interface with simpler navigation and enhanced functionality that makes the platform fast to learn and easy to use.
Other new enhancements that will be shown at the company's IBC2023 stand include:
Rich media summaries: MXT-1 quickly generates comprehensive descriptions of media assets, enabling users to fully understand what content is about without watching it in its entirety. With MXT-1, digital and marketing teams can automatically create engaging video titles, descriptions, tags and chapters that help speed up publishing to social and digital channels, drive more traffic, and improve viewer experience.
Multi-language descriptions: While most generative AI technologies only support English, MXT-1 allows users to view scene descriptions and media summaries in English, French, Spanish, Italian, German, Portuguese, and Arabic, with more languages to come. This flexibility enables users to choose the language they are most comfortable with, improving their engagement and understanding of the video content.
Speedy multilingual transcription: MXT-1 automatically detects and transcribes a single media asset when more than one language is spoken. By translating the segments into a single language, MXT-1 saves users significant time.
Highlight identification: MXT-1 allows media loggers and catalogers to spotlight the most engaging or exciting moments in a video. Content creators can then specifically search for highlights within a media asset, helping them quickly detect the most usable footage for documentary, news story, and social media use.