MPX Codec Wins Multiple Awards
Tieline MPX II Codec Wins Multiple Awards at NAB Show
Tieline the Codec Company announced today that the MPX II codec won two prestigious awards at the 2023 NAB Show.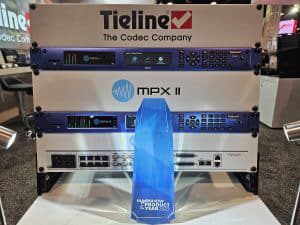 NAB Show Product of the Year Award
The MPX II codec won the 2023 NAB Show Product of the Year Award in the Radio category. This official NAB Show awards program recognizes some of the most significant and promising new products and technologies showcased by exhibitors at the NAB Show. Winners were selected by a panel of industry experts in 15 categories and announced at the NAB Show on April 18.
"Tieline is extremely proud to win a prestigious NAB Show Product of the Year Award," said Will McLean, CEO Tieline Group of Companies. "This is Tieline's second award for the MPX II in a week, with both awards honoring excellence in product design and innovation. We are excited to unveil the MPX II codec, which leverages our longstanding expertise in audio encoding to facilitate distribution of composite signals flexibly and reliably to transmitter sites."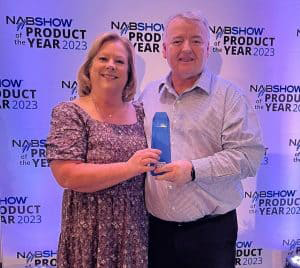 "Congratulations to Tieline for winning the 2023 NAB Show Product of the Year Award in recognition of the MPX II codec, a product that has demonstrated its ability to help storytellers face the challenges of the present and future by revolutionizing a critical stage of the content lifecycle," said NAB SVP and Chief Customer Success Officer Eric Trabb. "During our centennial year, NAB continues to recognize the products that are transforming how content is being created, connected and capitalized throughout the broadcast, media and entertainment industry."
 Radio World Best of Show Award
The codec also won the Radio World Best of Show Award at the 2023 NAB Show.  Radio World is recognized as the leading industry publication for broadcast radio owners, managers, and engineers all over the world, and this prestigious annual award acknowledges outstanding products and solutions in the technology and media industries on show at NAB2023.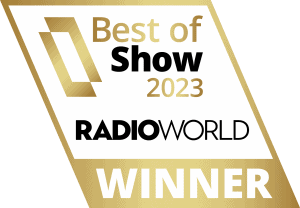 "To be recognized by an influential and respected publication such as Radio World is a great honor," said Charlie Gawley, VP Sales APAC/EMEA. "It acknowledges the enormous efforts by the entire Tieline team and we would like to thank SAVE Diffusion in France for their input in creating this innovative new MPX codec, which was extremely well received by engineers at NAB."
Tieline's MPX II codec delivers composite FM multiplex (MPX) codec solutions for real-time network distribution of uncompressed FM-MPX, or compressed MicroMPX (µMPX) signals to transmitter sites at much lower bit-rates. It can transport two discrete composite FM-MPX signals from the studio to transmitters with return monitoring. It supports analog MPX on BNC, MPX over AES192, and multipoint signal distribution, to deliver a wide range of flexible composite encoder and decoder solutions. An optional satellite tuner card with MPEG-TS and MPE support can receive DVB-S or DVB-S2 signals.