Domo Broadcast Systems wins NAB Product of the Year award for Eclipse HEVC Broadcast Transmitter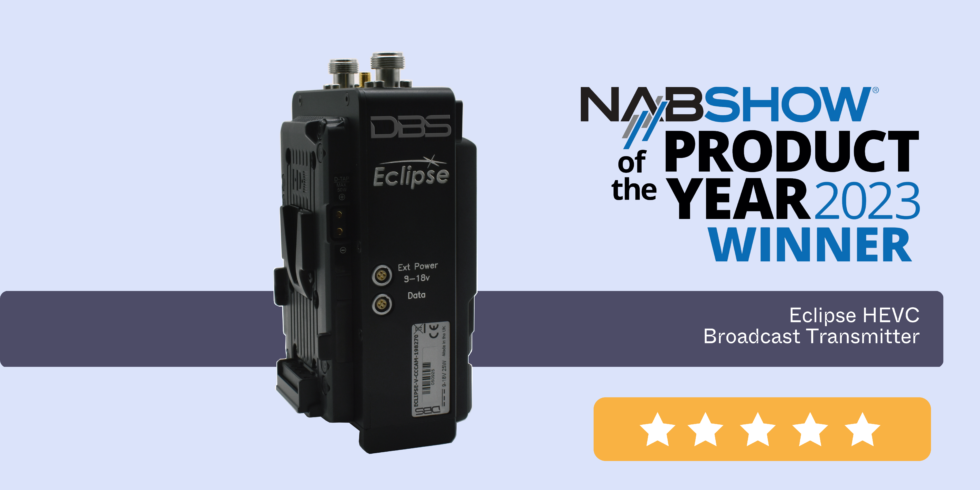 The superior HEVC encoding of the Eclipse coupled with Domo Broadcast's unique 5MHz modulation scheme allows operator to fit two wireless cameras into a 10MHz channel. This can be crucial as events become more immersive and require additional wireless cameras.
Southampton, UK — The National Association of Broadcasters (NAB) has honoured Domo Broadcast Systems' Eclipse HEVC Broadcast Transmitter with Product of the Year. The awards ceremony, held 18 April in Las Vegas at the 2023 NAB Show, recognises the most significant and promising new products and technologies as selected by a panel of industry experts.
Operating in DVB-T mode with Dual-Pedestal capability and 200mW output power, the Eclipse offers robust transmission in the most demanding of environments. The Eclipse can transmit single 12G-SDI UHD video or four 3G-SDI HD video with embedded audio. It also offers dual high-performance stereo analogue audio inputs with phantom power, as well as the option of integrated UHF camera control. The Eclipse can be provided with dual-frequency band support with 2GHz and 7GHz outputs in the same unit, making it the ideal solution in regions transitioning their frequency bands.
Proving to be a hugely significant and appreciated feature by broadcasters is the release of a 5MHz bandwidth modulation via the Eclipse camera-back transmitter. It instantly halves the RF-bandwidth needed for COFDM broadcast wireless cameras.
"For wireless camera operators, RF bandwidth has become an increasingly precious and much-needed commodity," says Mike Budge, Broadcast Unit Director for Domo Broadcast Systems. "Many of today's large-scale productions and sporting events use multiple wireless cameras to meet the demands for content coverage from multiple locations, increasing the pressure on RF bandwidth. Using a large number of wireless cameras requires a lot of wireless links, and any available RF bandwidth (and associated licenses) increasingly being allocated to telecoms and other users."
RF frequencies are usually licenced in 10MHz slots. However, with the Eclipse, broadcasters are able to have two 5MHz transmissions — specifically 4.8MHz — in a single licenced slot. The new Eclipse-TX encoder is substantially more efficient than the older H.264 encoding standard.
"Although we initially developed it to enable native UHD/4K links, we knew that when an HD link was encoded with the Eclipse, the increase in efficiency would result in high quality in just 5MHz of bandwidth," explains Mike. "In effect, broadcasters are able to immediately double the number of HD wireless camera links for a given bandwidth.
"We have an innovative team of broadcaster engineers here at Domo Broadcast. They are regularly counted on by the industry to be problem solvers. I'm proud of the numerous ways they continue to advance broadcasting, including their latest award-winning achievement with the Eclipse."
"During our centennial year, NAB continues to recognise the products transforming how content is being created, connected and capitalised throughout the broadcast, media and entertainment industry," said NAB SVP and Chief Customer Success Officer Eric Trabb. "Congratulations to Domo Broadcast Systems for winning the 2023 NAB Show Product of the Year Award in recognition of the Eclipse, a product that has demonstrated its ability to help storytellers face the challenges of the present and future by revolutionizing a critical stage of the content lifecycle."