Sony Electronics Announces VENICE 4K Live Bundle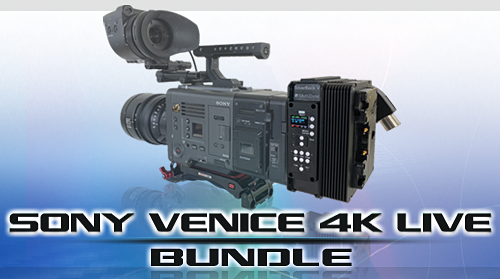 LOS ANGELES, CA — March 10, 2023 — Sony Electronics Inc. and MultiDyne Video and Fiber Optic Systems today introduced VENICE 4K Live, a new bundle created specifically for cinematic live productions. Since its introduction, the VENICE has become the go-to camera for feature films and television production thanks to its dual base ISO of 500/2500, built-in ND filters and more than 15+ stops of dynamic range.
As the industry continues to embrace cinematic storytelling in live productions, Sony is committed to meeting the needs of production crews capturing live events. Joining the HDC-F5500 s35mm live camera system is the new VENICE 4K Live. The VENICE 4K Live bundle was developed with MultiDyne based on feedback from the top live event professionals in the industry. MultiDyne's Emmy award-winning SilverBack Fiber Optic Camera Adapter transforms the VENICE from a cinema camera into a live event camera - allowing crews to embrace cinematic storytelling into their live productions, whether that is through the use of cinema lenses, shallow depth of field or low-light environments.
Funicular Goats Founder and Technical Director, James Coker, has been an innovator in bringing the cinematic look to live production. Coker has worked on some of the biggest events in television history, both in terms of audience and the number of cameras used. Last year alone, Coker used the Sony VENICE in over 40 live events. Coker explains, "The Sony Venice camera with a MultiDyne system makes what would be difficult or cumbersome shoots easier and more reliable: both live events and multi-camera events such as comedy specials and musical performances as well as live-to-tape style productions."
He continues, "The fiber allows us to have full control of the camera settings over IP, using the Sony Graphic User interface. And since it's hard-lined, we can run timecode and audio, multiple video feeds, tally, and sound, not to mention a robust solution for iris control. In short, the system allows for ease of use, reliability, quality control, and seamless workflow for the most challenging productions."
The new VENICE 4K Live bundle includes:
- VENICE
- SilverBack V 4K Camera Back Transceiver
- 18-inch XLR Breakout
- Sony camera data cable
- Cable assembly packages
- Tally light
- SilverBack-VB Base Station 12G/3G Transceiver
- Universal Rack Kit
- 1-meter XLR Breakout for 4x4 analog audio
- RS-232 and RS-422 Data/Tally/GPIO Breakout Y-Cable for SilverBack-VB Base Station
- Sony RCP data cable for SilverBack-VB Base Station
- Juice-48 External Power Supply
- Two RU Rack Mount Kits for HUT-CP camera units and Juice-48 power supplies