How the World Watched the 2022 NATO Summit Thanks to Core and Prism
Overview
NATO is an intergovernmental political military alliance of 30 countries whose goal is to preserve peace and security in the North-Atlantic area. Read how Teradek helped NATO send their live coverage of the 2022 NATO Summit to major international news outlets and social media sites using Teradek Core Cloud and Teradek Prism.
Challenge
This three-day summit had a packed agenda of back-to-back events from 07:00 to 20:00 – sometimes with 4 events at the same time – and many last-minute changes or delays. It required a close collaboration among 600+ individuals from TVE, PRG, and Overon to record all events in video. Video transmission needed to be sent to over 2,000 media representatives at the Summit, as well as major media outlets like CNN, BBC, ENEX, and DVIDS.
- HD-SDI 1080i50 Input and 1080p25 H.264 Output
- Social Media Platform Encoding Compatibility
- RTMP & SRT Protocols
- Stream Start-And-Stop Functionality
- Multistreaming To Several Destinations Simultaneously

Solution
Equipped with a single Teradek Prism 2RU (4 encoder cards + 2 decoder cards), and Teradek Core Cloud, NATO utilized multiple video solutions in one unified system, including:
- Encoding
- Decoding
- Transcoding
- Recording
- Asset Management
- Assets Storage
- Multistreaming
- Remote Start/Stop
- Cloud-based Distribution
During the Summit, the NATO team manually linked/unlinked destinations to encoders and started/stopped streams using the Teradek Core dashboard from their laptop, tablet, and mobile phone. Video feeds were transmitted from the Summit in Madrid to NATO HQ in Brussels, where it was then encoded for web streaming – as well as to Teradek encoders for social media and SRT streaming. Video editors at NATO HQ also created video products and distributed them as video-on-demand.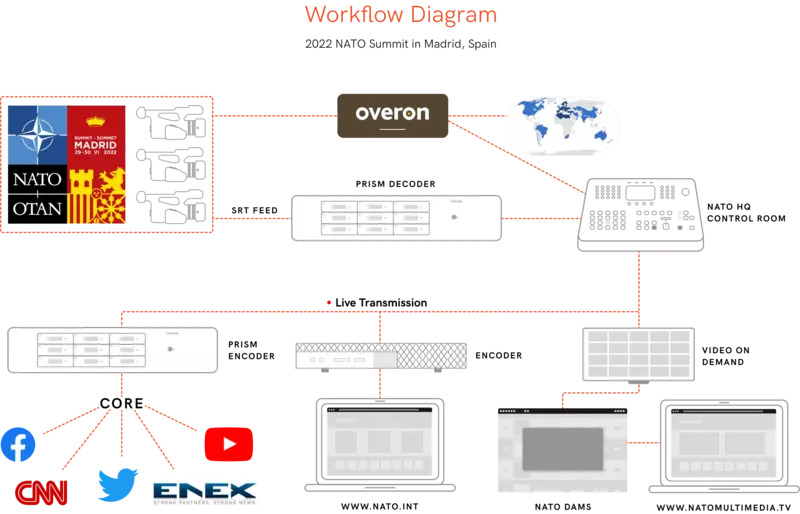 Outcome
With all video components consolidated into one Teradek solution, NATO's small crew of photographers, videographers, and coordinators successfully covered the 2022 NATO Summit together with the host broadcaster, while working across different time zones and countries. Teradek helped NATO stream:
- Press conferences involving NATO Secretary General to social media channels and a direct SRT-stream to different broadcasters
- Events involving the US President to the US delegation's social media channels
- Press conferences of member nations' Head of State to their social media channels
- The NATO Public Forum to partner organization channels
"Without Teradek, we could not have pulled off what we did over the past half year. It has become clear that with Teradek, we've invested well at a relatively minimal cost compared to transmission via fiber or satellite. Teradek offers us the scalability and capability we want and need." - Bart Vandendorpe, Head of Broadcast Operations at NATO